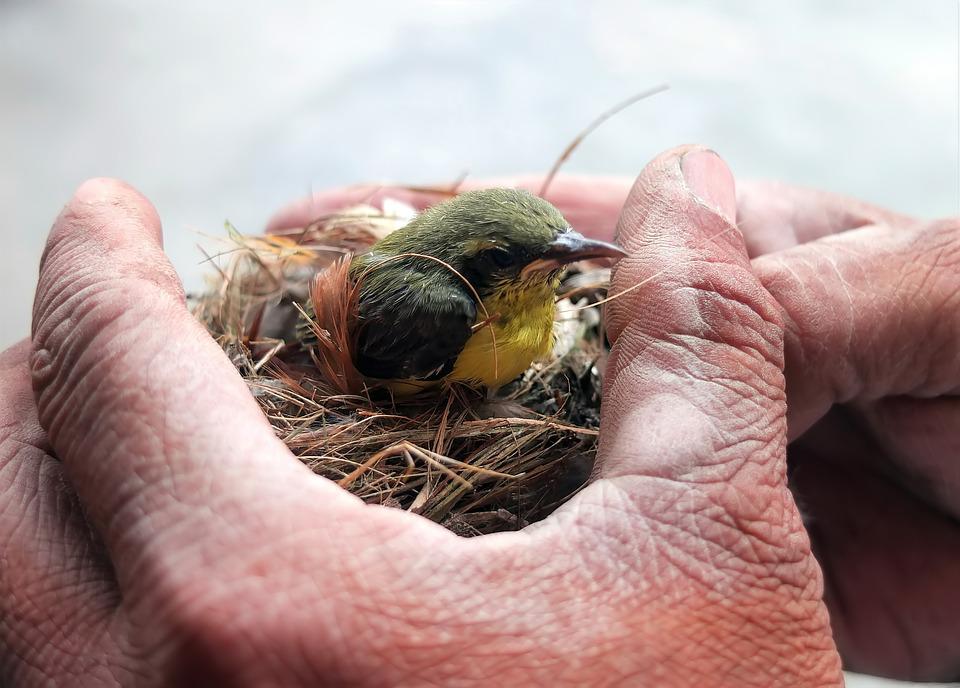 22 Aug 2022 | Apex Environmental Services (UK) Ltd
If your home or business is located in an environment populated by lots of wild birds, you might have already implemented some measures to prevent them from nesting on your property. In London especially, pest problems with seagulls and pigeons are becoming increasingly common.
However, as you may already know, it's actually illegal in the UK to disrupt or remove the nest of any wild bird from your property. This is because certain species of wild bird are now considered to be under conservation, and are therefore protected as endangered species under the 1981 Wildlife & Countryside Act.
So, how can you keep birds away from your property and prevent them from nesting on your roof? If you're looking for affordable and long-term solutions, anti-bird netting is a safe, legal and effective way to discourage nesting and keep your property bird-free.
What is anti-bird netting?
Anti-bird netting is a protective material used to prevent birds from settling and nesting on the roof of your property. Resembling a flattened football net, this material can be used to cover balconies, roofs, stadiums, industrial properties, homes, gardens, allotments, and any other areas or buildings that might be vulnerable to birds nesting or pest problems.
So, how does it work? It's simple - the holes in the netting are designed to keep out birds, denying them access to the property and preventing nesting. The netting is typically secured in place using stainless steel fixtures and bolts, with wires also often being used for taller structures. Most anti-bird netting is made of polyethene or polypropylene and also tends to be flameproof and resistant to all elements (even rain.)
Why is bird netting so effective?
Not only is bird netting a safe and legal solution to common pest problems, it's also highly effective - it really does work when it comes to deterring birds from nesting on your property. Here are just a few reasons why netting is such an effective anti-nesting method:
It's cruelty-free
Unlike some other forms of nesting prevention, netting is completely safe for birds. In fact, netting has been approved by the RSPB (Royal Society for the Protection of Birds) as a humane and cruelty-free solution to nesting problems. Birds won't find themselves tangled in the netting, and it isn't going to harm them if they come into contact with the netting fabric; it's entirely non-toxic.
Durable and affordable
With proper maintenance, anti-bird netting can last up to 10 years before needing to be replaced. For those looking for an affordable solution to nesting problems, netting is the way to go. And don't worry about the weather either; most high-quality netting is durable enough to withstand the UK's frequent rain and wind seasons. Just make sure to perform regular maintenance to ensure the integrity of the netting.
Easy to conceal
Because bird netting isn't largely visible (especially from a distance) you aren't going to destroy the exterior appearance of your home or building by using it. Don't forget that netting typically goes on the roof, so if you own a high-rise property, it won't be visible to passers-by. Netting also doesn't tend to make a lot of noise when birds come into contact with it, so it's ideal for both homes and industrial properties.
For smaller buildings where netting might be more visible (such as your home), you'll be able to choose a colour that blends in with the aesthetic of the property.
Customisable
When choosing your anti-bird netting, you can customise the style of the netting to keep out certain species of bird. For example, if you're only dealing with a sparrow problem, you'd be able to design your netting with much smaller holes, to ensure that no sparrows would be able to pass through.
Why nesting prevention is key
When it comes to stop birds from nesting on your property, prevention is absolutely essential. Once birds have already nested on your building, it can be a criminal offence to disturb or destroy the nest in any way.
That being said, nests aren't particularly hygienic; birds can carry bacterial pathogens that can be dangerous if they come into contact with humans, and tend to be an antisocial disturbance in highly-populated areas. Plus, if a bird nests on your property, they'll also tend to leave bird waste nearby: bird waste can ruin the aesthetic of your property and surrounding environment, while also creating its own problems when it comes to health and safety.
Put simply, prevention is key when it comes to avoiding all types of pests, especially when the pests in question are protected by long-standing UK law.
Industrial anti-bird netting Eastbourne
If you own or are running a business in an industrial building or estate in Eastbourne, commercial anti bird netting lancing services might be of use to help deal with your bird problem. Not only is nesting dangerous when it comes to the integrity of your building, but the bacterias and pathogens carried by birds (as well as the dangers of guano) can make for an unsafe working environment. Like most pest problems, it's a good idea to tackle it as soon as possible, to prevent the situation worsening over time.
FAQs
Can I remove a bird's nest from my property?
It's against UK law to remove, disturb, or destroy a bird's nest on your property. The best way to prevent nesting is to invest in preventative measures.
Is bird netting legal?
Bird netting is completely legal and 100% safe for wildlife - it has even been given the thumbs up from various bird conservation societies such as the RSPB.
How to take care of anti-bird netting?
You should carry out regular inspections to ensure that your netting is functional and that there aren't any tears or damage to the netting material (this would compromise the efficiency of the netting). If you see any animals stuck in your netting, you should remove them immediately and check for damage.